Two weeks of Blippex—450k+ searches, press and database dump!
Two weeks after launching Blippex we are still blown away by the usage and feedback!
Blippex was covered again on GigaOM and many other blogs which have started many discussions! (for example here in russian). Last week I wrote about how we had 125k searches, however this week we have a total of 450k!
Thank you all for the great support, please keep on installing the extension to make Blippex better!
Blippex has served over 325 000 searches this week only, thats 260% more than last week! Here is a graph of the number of searches per day (you can always see the latest version here)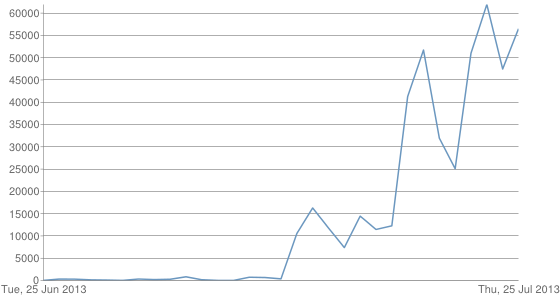 Blippex is now serving on average 46 000 searches per day, that's fantastic!
Again, we don't stop there!
On Tuesday we have released the first dump of our database, and had some very interesting discussions & ideas on how to use this data. @wolfhesse wanted to know the number of unique domains in our database and extracted 231 435 different domains, great job! We will release a dump every month, if you have any ideas how to make it better please tell us!
Besides the upcoming Windows 8 (Phone & Desktop apps, Betatesters needed!) we will release next week something very exciting for developers, so please stay tuned!
And finally: To help improve Blippex, please tell your friends! The more people who are a part of the community, the better it will get for everyone!
Thank you & keep on searching & discussing!
Published on 26 Jul 2013
Let's make search human again

Get the browser extension to contribute to Blippex